When I left the Pieces of Mind, I played in a few groups until I eventually teamed up with some friends and founded a new group called Waterfield ISE. Don't ask me why it's 'ISE', I always thought it was 'ICE' until a few years ago, when Chris Sharley, the drummer, put me right on the spelling.
  As with the Pieces of Mind, there were a few versions of the band over the years. We differed from them in the style of music we played, concentrating more on blues. We started writing our own material and gigged in South Wales & occasionally ventured across the Severn Bridge into Bristol, which to us was a foreign country.
My father had started managing pubs sometime in 1967. His first pub was the Kings Head pub, in Newport. It was here that Terry and I were living, in the small private rooms upstairs. Judy had married and was living with her then husband.
A few months after I had left the Pieces of Mind, I got married in September 1967 to Jackie, the girl I had met whilst working at Standard Telephones and Cables, a couple of years earlier. Andy Gibbon, my old bass player, was my best man at the wedding, which was held at St John's Church in Rogerstone, where I had played in the Church hall with the Pieces of Mind a few times.
The reception was held at the Rising Sun hotel, which was a short distance away. The hotel is still there in Rogerstone, although it has considerably changed. In July 2013, I stayed overnight at the hotel, whilst on a visit to Newport and I had a pleasant meal sitting at a table about 2 feet from where I had sat at the wedding reception.     
Andy came to the Kings Head on the morning of the wedding and we had a couple of drinks each. As the time was approaching for us to go to the Church, we decided to forsake travelling in the wedding car, with my parents and Terry, and instead walked to the bus station and caught a bus to Rogerstone, which was just over 3 miles away. My excuse at the time was that it would calm my nerves.
We got there with plenty of time to spare before the guests and Jackie arrived. I can't remember much about the service or the reception as the day seemed to go fairly quickly and before long we were ready to depart on our honeymoon. We went outside the hotel to find the car that Jackie's father had planned to take us to the railway station, had been decorated with streamers, balloons and tin cans. Not wanting to make the drive in the decorated car, we switched and drove to Newport, so we could catch a train to London where we would depart for our honeymoon in Spain.
At the station, we went to get our suitcases and bags out of the car boot only to discover they were not there. They were still back at the Rising Sun in the boot of the heavily decorated car. Unperturbed, Jackie's father drove back to Rogerstone and returned to the station with only a few minutes to go before our train departed.      
The rest of our journey was relatively uneventful. We arrived at Paddington station and made our way to Victoria station where we would catch a coach to an airfield in Kent. We then took a short flight to Beauvais airport, just outside of Paris and caught a coach that would take us all the way to Tossa de Mar in Spain, a distance of some 700 miles. When I had booked the package holiday, I was asked which coach seats I wanted and because I had said I didn't mind, was given seats 1 and 2. We spent our wedding night in seats right next to the driver and the passenger door.
Every time the coach stopped, people would get off and on, rather noisily, making any sort of sleep impossible. By the time we got to the hotel, funnily enough for someone into music, called Hotel California, we were shattered. Despite the nightmare travel, the 7-day package holiday was excellent. It was my first time abroad and it only cost us around £27 each.
On our return from honeymoon, we like many people spent a month or so living with my wife's parents until we managed to get a council house in the new town of Cwmbran. The house was in Camrose Walk, on the then relatively new Greenmeadow estate.      
Shortly after we moved into the house, I think it was around Christmas 1967, we held a party to celebrate moving in. I can't remember exactly who came, but I know Adrian and Phil were back from Germany, so they came along with Glyn. In addition, my fellow band members from Waterfield ISE, Andy, Chris and Anton, were there. For some reason, I started drinking Martini out of a pint glass.  After one or two of these, I popped into our new downstairs toilet and passed out on the floor. The toilet was quite small and my body was wedged so tight against the door, that when eventually people realised I was missing they had difficulty in opening it. They must have banged the door a few times against my shoulder as the next morning I woke up with a nasty bruise. That party would be the last time I saw Adrian until I saw Judas Jump in early 1971.
We lived in the Cwmbran house until we managed to get allocated a brand new council house in Rogerstone, where Jackie had lived.
We occasionally went on holiday with Jackie's parents, who had a caravan. In September 1968, we went on a fortnight break, touring various campsites in South East England. One site was close enough to the centre of London, that Jackie and I decided to go and see Traffic, who was on at the Marquee in Wardour Street. 
When we got to the club, we found out that Traffic was not on and Joe Cocker and the Grease Band had replaced them. I'm not sure of the reason why Traffic was not playing; however, as they eventually broke up early in 1969, I suspect they were having troubles.
Joe Cocker and his band were excellent. His version of 'With a Little Help from My Friends', with Henry McCullough on guitar and Chris Stainton on keyboards, was superb. No wonder it went down a storm at Woodstock the following year.  The support act was a band that had only formed a month or so before, called 'Yes'. The members were the original lineup of Jon Anderson, Chris Squire, Tony Kaye, Bill Bruford and Peter Banks. Whilst I didn't really like the type of music they played, I could see they were very talented and would probably go far. Suffice to say, they did go far and in addition to the millions of records they have sold, they still play to sellout audiences, worldwide.
In 1969 we were expecting our first child. Back then it was not unusual for births to take place at home, in fact unless there were any medical reasons, home births were the norm. Jackie had no medical issues and, despite it being our first, it was going to be a birth at home. Jackie's parents and her grandmother lived nearby and our prescribed midwife lived just up the road, so it was going to be easy, or so I thought.      
The midwife had given us a list of things, including a container to burn the placenta that we had to have in the house for the birth. On Thursday the 19
th
June, Jackie woke me up around 1:30 a.m. to say she thought she was having the baby. I quickly dressed and went up the road to the midwife and knocked her door. She told me to go back to bed and she would come and check about breakfast time. The midwife certainly knew her stuff as the birth took quite a few hours. Eventually at around 5:30 in the evening, Jackie gave birth to our first child a son who we named Mark Dylan.
When the birth was about to happen, the midwife said she would only allow 2 people to be present in our bedroom. By then Jackie's mother and grandmother were in the house. They both looked at me and told the midwife it would be them. Despite not being given much of a choice, I was in fact very grateful, as I was worried about passing out at the sight of blood.
Just over a month later, on the 21st July 1969, Neil Armstrong became the first man to walk on the moon. A day or so afterwards, we visited my parents who were keeping the Royal Oak pub on Chepstow Road. The TV was on in the living room, broadcasting news of the moon landing when I heard my mother remark 'Look Den, he's not moving'. Initially, I thought she was talking about the baby, but she was actually talking about what was on the TV. She thought it was a video, when in fact they were showing a series of still photographs of the astronauts.
The Waterfield ISE group was becoming almost as successful as the Pieces of Mind. I had found another talented young singer called Dave Tipton. Whilst Dave perhaps did not have the looks of Adrian, his voice certainly made up for it. We also found another guitarist to play a joint lead role with me, which I did until Andy left the group, when I switched to playing bass for a while until we got another bass player.     
For a while, we used to practice in one of the outhouses attached to the Royal Oak. It had plenty of room and the absence of houses nearby meant we could play fairly loud, without complaints. It was at one of the practices that Dave Tipton had an accident whilst playing the Gibson guitar that Graham Davies played. I can't remember why Graham wasn't there, however somehow the headstock got broken. I don't know how Dave explained the accident to Graham or exactly what happened to the guitar; although I believe an attempt was made to fix it using glue and screws.      
At this time, I still had the Guild Slim Jim guitar I had in the Pieces of Mind. When I had bought the guitar new, it was a cherry colour. Many people back then made minor modifications to their guitar. I did what some may consider quite a major modification in that I used an electric sander to take the cherry paint off and then put a light coat of varnish over the natural wood. When I came to sell the guitar, the electric sander cost me heavy; I only managed to get £30 for it. The person who bought it got a great guitar at a bargain price.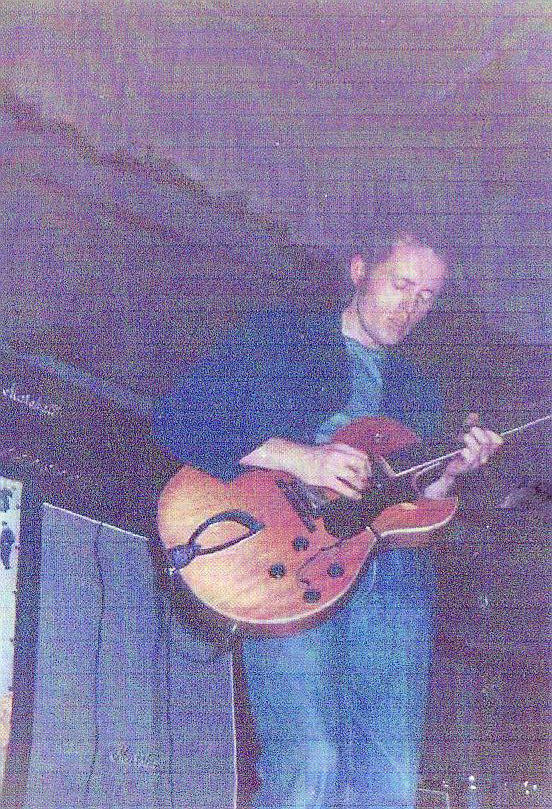 My Guild Slim Jim, playing through my Marshall 100w head + 8x10 Cabinet

The replacement guitar I bought was a 1962 Salmon Pink Stratocaster, which was a hire purchase reclaim in Mo Wight's shop. I paid £90 for it. I also improved my amp somewhat by buying a Marshall 100w head and a Marshall 8x10 speaker cabinet. I also owned a Carlsboro 100w PA amp and 2 PA columns, each containing 4x12 speakers. I played a few gigs going through both amps and a total of 16 speakers. It's no wonder that today I suffer from tinnitus.     
I have very few memories of gigs we played as Waterfield ISE. Like the Pieces of Mind before, we played quite a few schools, including Croesyceiliog and Duffryn as well as many clubs and pubs throughout the valleys. Along with other groups, we played an open air Blues and Folk festival held in Tredegar Park, Newport. We played on a stage that seemed to be made from planks of wood laid on top of scaffolding poles. We played our set in the evening and lighting was provided by headlamps of cars and vans. As the photograph shows, we even had a Tilley lamp on top of one of the PA columns and car lights were used to illuminate the area around the stage.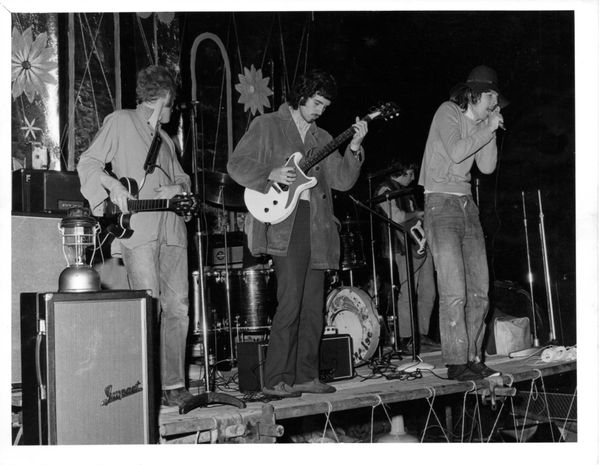 WISE at Blues & Folk Festival in Tredegar Park
We occasionally played places completely inappropriate for the type of group we were. One of these was at an Army barracks, near Crickhowell. The entertainment secretary requested a waltz for the Sergeant Major and his wife to lead off the first dance. We explained that we didn't really do those types of tunes; however, he insisted we do a waltz. Someone in the band had a brainwave and mentioned we should do Manic Depression, by Jimi Hendrix, which was in 3/4 time, so could be interpreted as a Waltz. So we did the song a bit slower and the Sergeant Major and his wife danced. For some reason we never got another gig at that Army barracks.     
We were playing a gig somewhere on the Saturday night of the Whitsun Bank Holiday weekend in 1970 and at the end of the gig, Graham Davies and I decided we would go to the festival at Plumpton Racecourse, being held that weekend. Judas Jump, the group Adrian was in, was on the bill, along with Ginger Baker's Air Force, Black Sabbath, Van Der Graaf Generator and many others.
The only transport we had was my Honda 50 moped and Plumpton was over 200 miles from where I lived in Rogerstone, bearing in mind that my moped was not allowed to go on motorways. So armed with just a small map, we set off just after midnight on the Saturday night, travelling two up on the small Honda 50. We took it in turns to share the steering and had to stop for a rest every 30-40 miles with very sore bottoms.
It took us about 12 hours to do the journey and I remember that when we arrived, I had to push my Honda 50 past rows of Hells Angels with their massive motorcycles. They looked on two individuals dressed in RAF greatcoats and berets with some bemusement to say the least; thankfully they didn't beat us up. The primary reason for me doing the trip, was to see Adrian and Judas Jump, however, I hadn't realised they were playing on the Saturday night, so missed them. However, it was well worth the trip just to see Ginger Baker and his new band; I thought they were great.      
When the festival finished, we started off on the long journey back home. By this time, we had gone well over 24 hours with no sleep, so after we had travelled a few miles, we decided to take a nap in a ditch for a couple of hours. Suitably refreshed, we continued, again stopping every 30-40 miles to take a rest and swap steering responsibilities.
The most interesting part of the trip was coming down the old Birdlip hill, near Gloucester, when Graham moved on the back. The movement nearly made me lose control and go over the edge. I had a footrest missing and he was using a piece of string as a stirrup to put his foot in. The string snapped, causing him to move and the bike to wobble. I still can't believe that we managed to do that journey, without getting lost or being injured. There were no satnavs back then, and we had to navigate from South Wales to a festival held near a small village in East Sussex, without using motorways. I would find it difficult to do now in a car, without using my satnav.
It was riding that Honda 50 that I had my only accident on a motorbike, in fact the only accident I have ever had whilst in charge of a vehicle. At the time I was working at Monmouthshire Board Mills, which was situated down at the far end of Newport Docks, I think just past Alexandra Docks.
I was on my way to work one early morning. It must have been around 1969 as we were living in Rogerstone. It was quite a cold frosty morning and as I was going up East Way Road I skidded on a patch of ice. It was next to that small dock on the right before you reach the corner near Alexandra Docks, leading to the Board Mills.
Needless to say, I came off the moped and bounced along the road for a few yards coming to rest against a small raised kerb. I got up, quite shaken and feeling quite groggy my legs started to buckle and I fell against the railings adjoining the small dock. The railings were only around 3 feet high and I started to lean over them almost toppling into the dock. I heard a voice asking me if I was ok and a pair of hands pulled me away from the railings. A couple of chaps on their way to work had stopped their car and I am sure they prevented me from falling into the dock.
I had a crash helmet on, and this no doubt saved my head from getting too much of a bashing. Even so, my face was covered in blood and quite swollen. The bike was hardly damaged, just a few scratches along one side. One of the men rode the bike to my work and the other drove me, where they took me to the first aid room.      
The nurse cleaned up my injuries, which were really only superficial and then made me lie down for a couple of hours, before allowing me home. She wanted me to be driven home by one of the workers, but I was determined to get back on the bike and ride myself home. I think I was worried that if I left it a couple of days, I might not want to ride it again.
I rode all the way home, probably at a speed no more than 20 miles per hour and even less on the East Way Road, although all the ice had gone by this time. The worst part was going up Belle Vue Lane, past the Royal Gwent. That road was quite narrow and windy, as well as being steep and I was still feeling a bit under the weather. I eventually got back home and gave Jackie a bit of a shock when she saw my swollen and bruised face under the crash helmet.
In 1970, a talent scout came down from London to look for a good blues band and heard us in a small club called The 'In Place', in Newport. The scout arranged and paid for us to record half a dozen original songs at the legendary Rockfield studios in Monmouth. We did this; however, nothing came of it. I didn't even receive one of the acetate demos that were given to the band. I am not sure if the master tape still exists, but the stuff we did was great, even though I may be a bit biased.      
Chris Sharley has told me that we had at some time changed our name to 'Sonofabitch'. I have no recollection of us changing the name, but Chris has a copy of the acetate with the new name on it, so I suspect he must be right, however, it will always be Waterfield ISE to me.     
A move to London was the thing to do in those days, so we were all going to pack our day jobs in and turn professional, after the recording. Unfortunately two members of the group, the bass guitarist and other lead guitarist, informed us at the last moment they would not be going with us. In spite of this setback, we set off for London in the Thames 15cwt van owned by Chris Sharley, venting our anger, all the way, at the two people who had so badly let us down. I can understand why they made their decisions at the time, but I cannot understand why they had to be so secretive right up to the time they told us a day or so before we had planned to all leave.
Even though Chris owned the van, none of us actually had a full driving licence, so we decided to avoid the M4 motorway and take the A48 through to Gloucester and then head for London. Unfortunately the police going up Tutshill, outside Chepstow, pulled us over. The van had 'L' plates on and I suspect, they thought we looked a bit suspicious, as we had passed them. I won't say who was driving, to protect the guilty, but someone claimed to be Andy, who did have a full licence that he had left at home. The police advised our 'Andy' that he would have to pop into a police station with his licence within a few days. As soon as we got to London, we contacted Andy and asked him to do us a favour.     
The scout had arranged for us to stay in a house, of a friend or member of his family, in West Croydon, whilst we replaced those who had dropped out. The plan was to try and get either a bass player, and I would continue as lead, or get a lead guitarist and I would switch to bass. We arranged auditions in a rehearsal studio in Victoria and eventually decided on someone who had been with a group from Newcastle, called Geordie, whose vocalist Brian Johnson went on to join AC/DC.
We spent time rehearsing whilst waiting for a record deal that never appeared. Weeks went by and finances were running out, so I eventually took a job. I can't remember exactly where the job was, or who the employer was, but I do remember it involved packing things in brown paper. I remember the factory I worked in was a fair distance from where we were lodging in Croydon, so at times; I slept in the van outside the factory. In the morning I used to wash in the gents toilets.
Things were going from bad to worse. I had very little money coming in to support myself. I certainly had none to support Jackie and my son, who were living in South Wales. The lowest point of this time came when I had an accident in work. I dropped a roll of paper onto one of my feet and ended up breaking a toe that needed my foot covered in plaster of Paris.
Feeling extremely low, and with Christmas approaching, I informed the others that I had enough and was going to go back home to my wife and child. It didn't take much persuasion for the others to join me, so we returned home in the van.
As we made the long journey back to Wales, I didn't then realise that I was about to embark on an extremely long period away from playing guitar in groups.