Within 2 years, I was back at RAF Brampton in Headquarters Support Command, this time working in IT. For the next 4 years, until I left the RAF in March 1993, my role was that of a system analyst, analysing and design computer systems for use within the Command. It was during this time that I was introduced to software from the Oracle Corporation who would eventually employ me.     

In late 1988 or perhaps early 1989, my mother became ill and went into a coma. She was admitted to hospital and then released home after a week or so when she showed signs of recovery. My parents had then retired and were living in Malpas. When she came out of hospital, it was decided my mother would live for a while with my sister, in Morden Road, as she was better placed to look after her, than my father.
     
In March 1989, my mother started getting worse and on the 28th March, she sadly passed away. The main cause of death was put down as Acute Bronchopneumonia, with Ischaemic Heart Disease being a contributory factor. I had managed to visit my mother, at my sister's house, shortly before she died.
     
My father, who had been a heavy smoker until he stopped in the mid-80s, suddenly started smoking heavily again. I am afraid to say, he also started drinking more than he should. His health was going downhill fairly rapidly and despite those of us who tried to show him what he was doing to his body; he carried on smoking and drinking. Eventually his health got worse and he was admitted to St Woolos Hospital. On the 8th July 1990, a mere 15 months after my mother had gone, my father passed away, without me having a chance to see him one last time. His cause of death was Bronchogenic Carcinoma or lung cancer.
     
In less than 10 years, I had lost a brother and both of my parents. I was determined that I would never abuse my body the way my father had abused his. I had never smoked and didn't really drink a lot; I just needed to improve my overall fitness. I became involved in the cross-country running team and spent many Wednesday afternoons running muddy races at various locations. I was never that fast, usually finishing a race well in the bottom quarter of competitors. I just enjoyed running and it had the side benefit of keeping me fit.
     
I joined a running club in St. Neots, called the Riverside Runners and, during the winter months, started competing in weekly races, in a completion called the Frostbite series. I also ran numerous other races, including the 9th Great Eastern Run, in 1990 at Peterborough. This was a half marathon race and, for me, was to be the fastest time I ever achieved for that distance. I completed the 13.1 miles in just over 1 hour and 36 minutes, not bad for a 44-year old man. The race was a perfect one for me and I managed to knock 9 minutes off my previous best. And, no, I was not on drugs.
    
Shortly after this race, several people in the club decided they wanted to enter the New York City Marathon, so we started saving up to fly to New York in 1995 and race the marathon.  The Riverside Runners used to man the mile marker posts at the annual London Marathon event. As a reward for doing this, they used to be given a certain number of guaranteed places for those wishing to run the marathon. I managed to get a place, actually substituting for someone who was injured.
     
According to my times in half marathons, I should have been able to finish the London in well under 4 hours; however, I only managed a time of 4 hours 10 minutes. I went on to run the London Marathon a further 3 occasions, with my times getting progressively longer. My official time in the 1993 London Marathon was 4 hours 50 minutes and 6 seconds, although it took me 15 minutes to cross the actual start line, so it should have been around 4 hours 35 minutes.
     
I left the RAF on the 28 March 1993, having served a total of 22 years. In that time, I managed to miss all the major conflicts, such as Northern Ireland, the Falklands War and the first Gulf War. Missing these conflicts was not my choice, it was purely down to the fact my trade wasn't required; however, I was very glad I had.

I immediately joined the American software company, Oracle Corporation. In fact, I had joined the company a couple of weeks earlier, so for a short period, the RAF and Oracle were paying me at the same time. As a leaving present to myself, I re-kindled my interest in music by buying a brand new Fender Stratocaster, which I still have.     

When I joined Oracle, I was based in Bracknell, so we decided to sell our house in Offord Cluny and move to one in Bracknell. After a while, Oracle moved to Thames Valley Park, near Reading, and I had also switched to a Pre-Sales role, which meant I could be based in any of the offices. So we decided to up sticks and move again somewhere up the M40. We eventually chose to live in Brackley; an old market town situated about 10 miles from the M40 and not that far from where Mark and Emma were living. We have been there ever since.
Working in Oracle offered plenty of opportunities to travel. Within 18 months of me joining, a paper I had submitted to a User Group in Vail, Colorado was selected. My department arranged for me to visit the Oracle Headquarters, in Redwood Shores, near San Francisco, and work with our American colleagues for 5 days before I flew to Denver to present the paper at the 5 day Conference, in Vail.     
Whilst in San Francisco, I managed to attend a baseball game at the then named Candlestick Park. It was quite a hot day and despite the offer given to me by one of my American colleagues, I refused to wear a spare baseball cap he had brought. By the time the match finished, my face and the top of my head was severely sunburnt.     
The trip to Vail was interesting. I flew from San Francisco to Denver and my travel department had pre-booked a seat on the Colorado Mountain Express. I expected this to be a train, however, when I got to their offices in Denver Airport, I discovered it was just a large minibus.     
The journey to Vail took around 3 hours and despite my thoughts about the minibus, I must say it was fabulous. The scenery driving up through the Rocky Mountains was amazing and probably better seen in a minibus than a train.
On arrival at the hotel, the concierge gave us a little speech warning us to get used to the altitude before undertaking some things. Vail is over 8000 feet above sea level and the air is quite thin. I listened to this chap telling us to use the elevators, rather than the stairs and not to exercise or drink alcohol for a couple of days.      
After I checked in, I saw there was a large queue for the elevator, so I climbed 2 flights of stairs to my room. I unpacked my bags and decided to go for a small run into the centre of Vail and back, a distance of just under 2 miles.     
On the way back to the hotel, it started snowing and I could hardly breathe. A couple of very attractive young American ladies stopped and asked me if I was ok. I told them, I was just taking a breather and started jogging again. They sped off in front of me and when they had turned the corner, I stopped and walked the rest of the way back to the hotel.     
As I entered the hotel, I saw the concierge shaking his head and muttering at me. This time I took the elevator to my room and crashed out on the bed. That night, I defied the third warning he had given us, and drank lots of alcohol. It took me several days to get over the lack of air, even when I got down to Denver, which was 3000 feet below Vail; I was still out of breath.         
When I had got to the hotel in Vail the skin on my forehead and nose were starting to peel and by the time I gave my 45-minute presentation, I was not a pretty sight. I think many in the front row of the audience were wondering why this British person, with what appeared to be third degree burns, was doing there when he should have been in hospital, or at least off work.  Still, I managed to complete the presentation, with no problems.  Afterwards, a few people came up to me asking what had happened and laughed when I told them.     
I spent 3 weeks working on a large project in Boston. Consultants from all over the World were helping develop an IT system for Nynex, which was a telephone company serving 5 New England States. There were many interesting characters on the project, including a Texan who insisted on bringing a gun to work, keeping it in his desk drawer during the day.     
My time there coincided with a graduation ceremony from Harvard and on that weekend, I was walking around the centre of Boston, near where Filene's Basement was, when I heard a Welsh voice. I looked to where it was coming from and saw a woman talking to a policeman, mounted on a horse. When she finished talking, I asked her what part of God's Country was she from, and it turned out she was living in Camrose Walk, Cwmbran, just a few doors from where we used to live. She was in Boston attending her daughter's graduation ceremony from Harvard. It's such a small World these days.     
I made another trip to San Francisco in the mid-90s, when one of our salesman and I escorted a group of senior Military personnel to Redwood Shores. As they were meeting with senior Oracle staff, we were given Oracle chauffer driven Limousines and entertained rather well. The salesman and I managed a day out driving up to the numerous Vineyards in the Napa Valley.     
Other trips I made in my time with Oracle were to Berlin a couple of times for an Oracle Open World and a training course and also Brussels for another course.     
In 1995 I flew to New York with several other members of the Riverside Runners, to run the New York City Marathon. The race that year was probably the coldest of all the New York Marathons. I had cycling type shorts and a vest, topped off with a bin liner to try and keep me warm. I also had a long sleeved vest that I intended to discard at the start; however, I had to keep it on for at least the first hour.     
The official statistics state that I finished the race in 5 hours, 10 minutes and 13 seconds. My overall position in the race was 22638 out of 26809 people that finished the event. I didn't come last, but I could see that the marathon distance was, perhaps, too long for me. I suppose it didn't help that I had run the London Marathon earlier in the year, and injured myself at the 15-mile stage. I should have pulled out of that race, but stupidly I didn't.     
My lingering memories of that 5-day trip to New York are seeing the expression on people's faces when I popped into a shop to buy a banana, round about the 6-7 mile mark of the race and also the trips some of us took, up the World Trade Centre towers and the Empire State building. The view from the observation floors was amazing.  
Having moved away from the Huntingdon area, I decided to give up running races and just do a little to try and maintain fitness. For many years, going back to my Royal Air Force days, I had wanted to tackle the Coast-to-Coast walk; numerous reasons, or maybe excuses, stopped me having a go. One night in the summer of 1997, after a team meeting, I was in a restaurant in London and happened to mention my ambition of doing the walk. A few drinks later, a couple of colleagues expressed an interest and things developed from there.     
The following year, in May, I tackled the 190+ mile walk with 2 of my Oracle colleagues, Lynda Barnes and John Breedon. It took us 12 days to complete the walk, carrying all our gear with us and staying in Youth Hostels and Bed and Breakfast places.     
I lasted over 10 years in Oracle before the inevitable redundancy occurred. Again I was lucky in that before my redundancy period ended, I joined Capgemini, an IT consulting company. I stayed with them until they had a voluntary redundancy programme in 2007. I applied and was accepted in May 2007. Having reached the age of 61, I decided that this was the right time to retire.     
I then spent the next 6 months hanging about at home; with no real purpose in life, other than to get under my wife's feet. During this time, I would receive the odd email or telephone call from recruitment agencies asking if I was interested in particular jobs. One such job sounded extremely interesting and also seemed to offer a lot of money. The recruiter was quite cagey about who or where it was until I forced him to answer. It was an IT role working for the military in Afghanistan. I politely declined.     
Eventually one agency said they had a 3-month contracting job, at Jaguar Land Rover near Coventry. This seemed ideal for me, and whilst Coventry was a bit further away from Brackley than I really wanted, the car commute, via the M40 and A46, was not too bad. So with a lot of encouragement from Jackie, I went for the interview, got the job and started work at Whitley, near Coventry, in November 2007. As an incentive, Jackie suggested I use some of the money I would earn to buy guitars and amplifiers. As I was still working until August 2013, I seem to have acquired a few of both since 2007.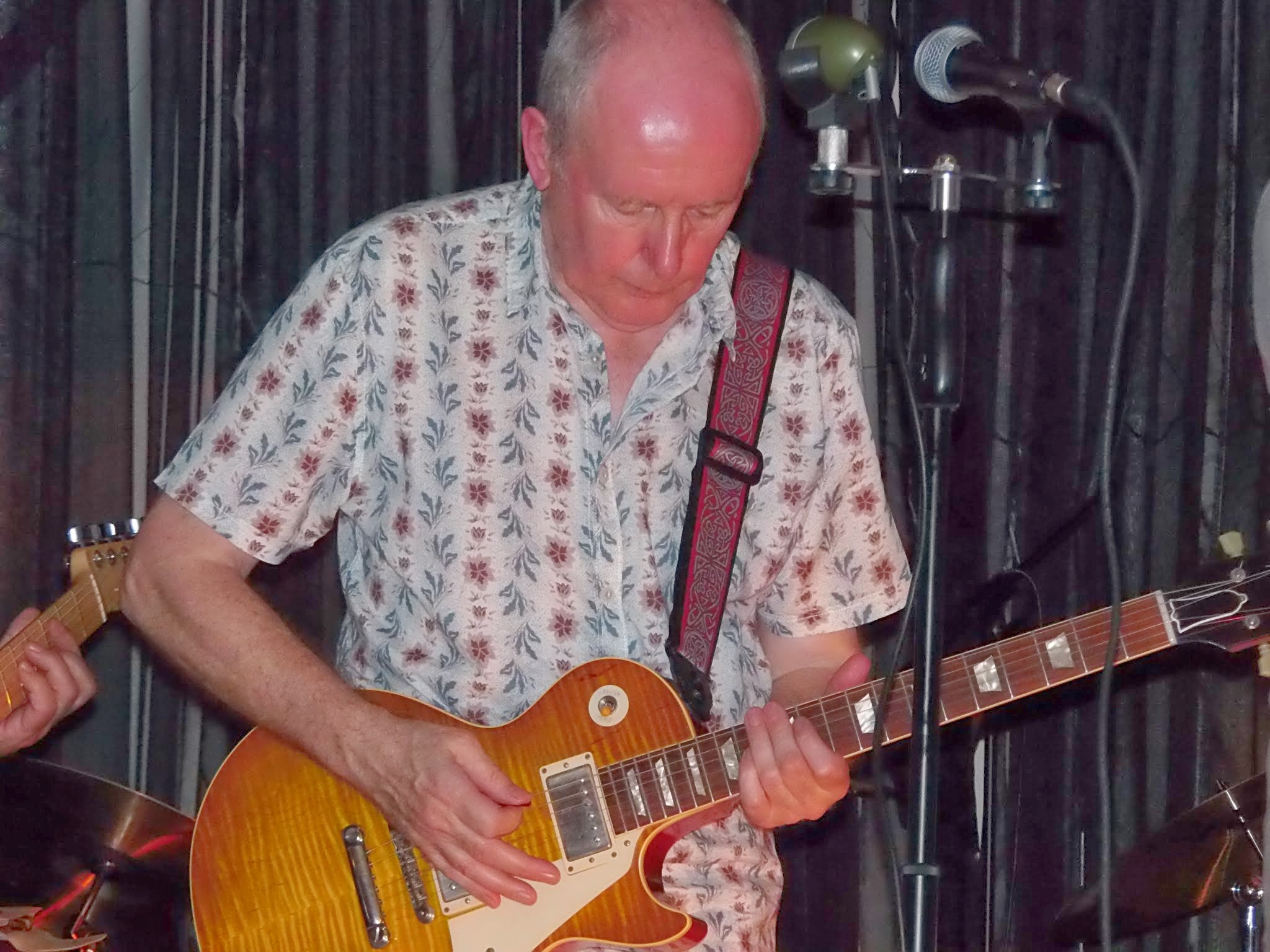 One of my Les Pauls in action
Despite saying 'never again' at the end of the 1997 Coast-to-Coast walk, I did it again. Back in the summer of 2010, having already retired a couple of times, I promised myself I would eventually retire in 2011, when I reached 65. To celebrate my third and what I though would be my final retirement, I would repeat my walk across the North of England on my own. This I did in June of 2011, taking 14 days and having the luxury of my gear carried between overnight stops.     
Whilst writing this, in September 2013, I have just finally, I hope, retired for the last time. A couple of years earlier my job at Jaguar Land Rover had moved from Coventry to Gaydon, which is a lot nearer to where I live. Gaydon is one of the main engineering centres for Jaguar Land Rover and has a test track that is used by both Jaguar Land Rover and Aston Martin. It was quite interesting seeing the many prototype vehicles being driven around the site, however, at times, it seemed like a long 3 month contract I had signed.     
Since moving to Brackley, I have got more and more involved with music and playing guitar in particular. I started attending local jam sessions, often playing in the house band and also joined up with a couple of ladies playing a mix of electric folk material. We are all rather 'mature'; however playing with them is great.     
Musetta, who plays violin, has an interesting musical background, in that she was one of the performers who played percussive instruments in the Quintessence rock band, back in the early 70s. Cynthia has a lovely voice and plays 12-string acoustic guitar, whilst I play one of my electrics. It might not be quite like playing in the Pieces of Mind, but at least it's extremely enjoyable. Another violinist, called Ian and a chap who plays bass guitar called John, has recently joined us. John used to be with Mungo Jerry. All 4 of them are extremely accomplished players.  Sadly John Godfrey, the ex Mungo Jerry bass player died suddenly in June 2014.  We will all miss him.     
I joined a rock band in 2012 and have played a few gigs. We also recorded half a dozen songs, all covers, at Rockhopper studios, in Buckingham; so we could hand out CDs at potential venues. The recording package included a couple of professionally produced videos as well as the CDs.     
However, in May 2013, we parted company as I found their style of playing to be too robotic, not free flowing enough and most importantly, it was not fun for me. What playing in a group should be like was reinforced quite strongly to me when the Pieces of Mind played their 50
th
Anniversary Reunion gig in April 2013, but more about that later.     
Well into my 60s, I was now back doing what I loved doing in the 1960s; playing a guitar with friends of a similar ilk.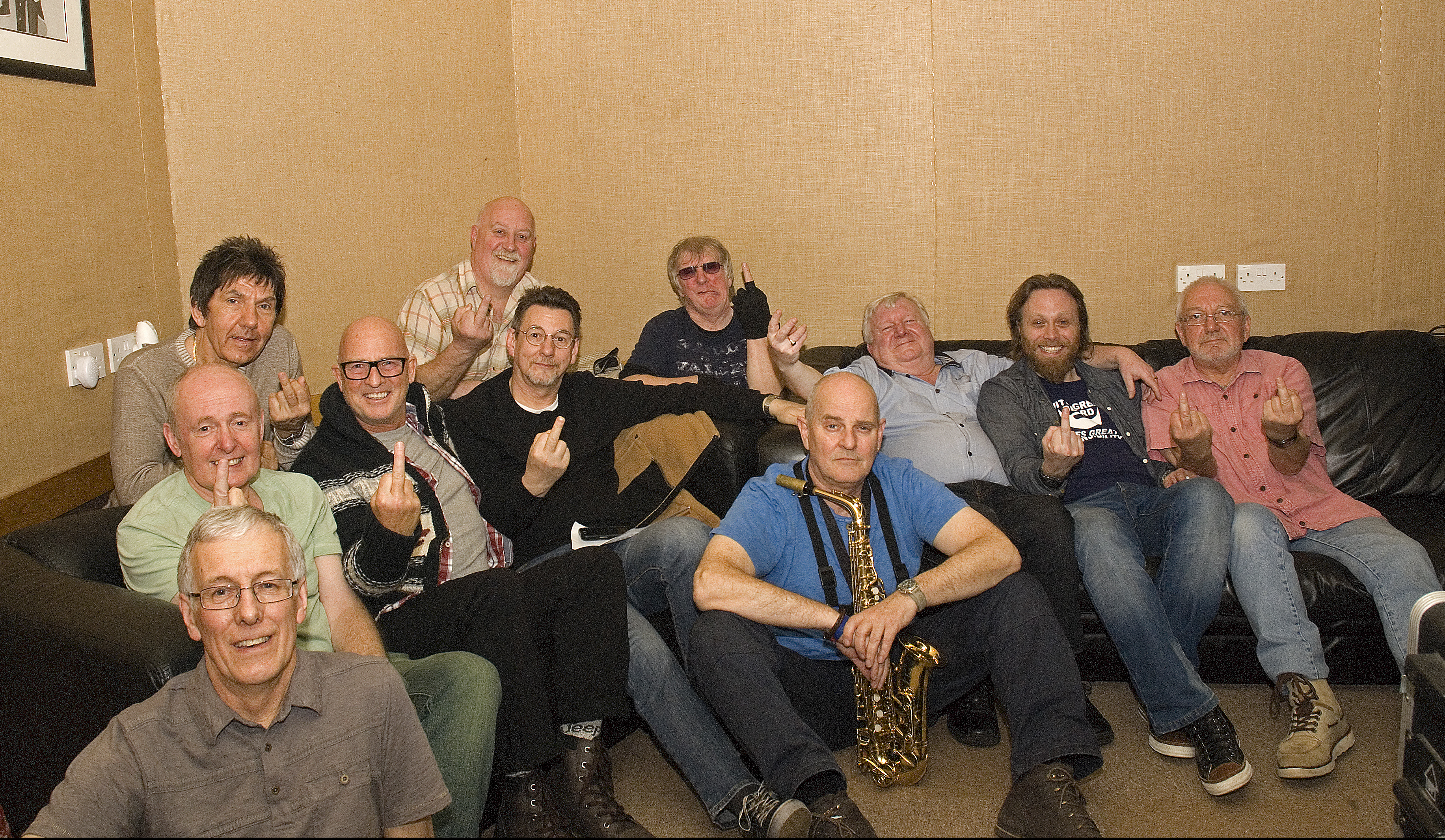 Faster Studios March 2014
Taking the mickey out of poor Johnny B who didn't know what we were doing