The Pieces of Mind underwent a few personnel changes in my time with the group and a few more after I left in 1967. It is difficult to come up with firm dates for when people joined or left the group, especially as the events happened up to 50 years ago. We are lucky that John Beardmore kept a gig diary for 1964 and 1965, but even that is probably not complete.
There are very few fixed milestones we can base events around. The Aberfan disaster on 21
st
October 1966 and Andy getting married the next day are 2 such dates that confirm that Andy and I were both playing with the Pieces of Mind at the time. We all have the same memories of the gig, such as running out of petrol and Andy not getting home until around breakfast time, on the day of his wedding. We even have photographs of Adrian, Andy, Phil Edwards and I celebrating his stag night.
As mentioned earlier, I played in a primarily instrumental group, from the time I got a guitar up until the day the Pieces of Mind were formed. I cannot remember the names of everyone I played with, however, the most important from the point of view of this story, was Robert 'Percy' Price. Robert lived in Ladyhill Road, not far from where I lived in Elgar Avenue, on the Alway Estate, Newport.     
Despite him being nearly a year younger than me, the time I spent in hospital meant we were both in the same class in Alway Junior School and we became friends. When we started playing in groups, it was the two of us who went on to form the Pieces of Mind, in the autumn of 1963. Percy would leave the group early in 1966, to spend more time with his girlfriend, who he would eventually marry. Percy still plays, standing in with various South Wales bands and at local jam sessions    
I met Adrian Williams, whilst working in the Costing office of Whitehead Iron and Steel. He had no musical background until I asked him to join the group. After joining, he was in all versions of the group until their demise in 1969.     
After leaving the Pieces, Adrian joined a German band called Almond Harvest.  They were about to go into a recording studio when Alan Jones asked him if he wanted to join Judas Jump, the super group that was formed out of Amen Corner, the Herd, the Mindbenders and of course, the Pieces of Mind. When Judas Jump packed in, Adrian went on to have a career in the record industry, ending up as a boss with the music part of the Sony Corporation.
Dave Sargent was a gentle giant, who joined the group, to play bass guitar, shortly after Adrian. I believe he played with us until shortly after the talent contest in Porthcawl. I can't remember why he left, although I gather he later started a double-glazing business, so it may have been to spend time developing the business. Sadly, I was to find out, when planning the reunion in 2013, that Dave had died a couple of years earlier.     
Steve Strong played drums in the first version of the group. I can't remember how we found him, but he played with us for around a year. He has continued playing and in 2013, he is in his 17
th
year with the James Boys, a band in Newport.     
Will Lowe joined us not long after Dave, mainly to play harmonica, although he also sang the occasional song. Like Dave, he played with us until around the time of the Porthcawl talent contest, perhaps a month or so later. I am not sure why he left, but I know he ended up moving to Australia, so perhaps that was the reason why. I think Will no longer plays in a band.     
When Dave left, Percy switched to playing bass guitar and a childhood friend of Adrian, joined us to play rhythm guitar. Andy Gibbon had gone to the same school as Adrian and had been playing guitar for a while. He would also leave the group sometime in 1965 and rejoin to play bass guitar when Percy left in 1966 and then finally leaving in January 1967. Andy has played throughout the decades and is currently in the Timesup band.
Garnett 'Chippy' Chapman joined us on drums, to replace Steve Strong, sometime in the autumn of 1964. Chippy played many gigs with us, eventually leaving around August 1965. He no longer plays, sadly for medical reasons.     
Phil Edwards replaced Chippy on drums, not long after Andy had left, so we then became a four-piece group for the first time. When Andy rejoined in 1966, we continued as a four piece. Without denigrating any previous or following members, it was this version of the group that I consider to be the classic Pieces of Mind. Perhaps the only addition would have been of my long-time friend, Percy, on rhythm or bass. Phil gave up playing in 1986, however since the reunion gig, he has started playing with people in Spain.
At the beginning of November 1966, I asked Dave Kubinec to join us playing organ. Whilst I only played, with Dave in the group for a few months, I could see he had a lot of talent. He also had a bit of a fiery personality and I can remember having the occasional argument with him once or twice on stage. Dave stayed with the group until the end of December 1967 and rejoined for a few months in 1969. Dave no longer plays with any band, but has been a prolific songwriter over the years. One of his songs, Rock and Roll, was used in the Croatian version of Britain's Got Talent, back in 2010, by the eventual winner, Kim Verson.
It was around the time of Dave joining, that the group went through a lot of change. Phil had decided to leave the group, for some unknown reason. We held auditions, for a new drummer, at a gig we were playing at the Stow Hill Labour club, in Newport. There were 3 drummers at the audition and whilst all were good, the one that impressed us the most was called Stephen 'Ted' Dyer. He was very young just short of his 16
th
birthday. Glyn Williams, Adrian's brother, had told Ted or his brother Jim, that Phil was leaving the group and they were holding auditions for a replacement at the gig.
Ted remembers that there were two other drummers there and both of these took turns to play a few numbers with the band. When his turn came, he played a bunch of Soul & Motown songs and after five or so numbers was told to stay on stage as he got the job and was to play the remainder of the gig. Co-incidentally, Ted's Brother Jim was at the same gig and remembers having a go on the drums. I don't think he was part of the official auditions he just wanted to play. Ted still plays with a band called Atacama.
Just after Ted joined, we added a brass section and the whole direction of the group changed. At times it appeared that we had around a dozen players on stage with us. It was definitely not my taste in music; however, the rest seemed to like what we were doing. Of the brass section, to be honest, the only ones I remember was a chap who went by the name of Coco, who played the trumpet and Dave Martin, who played the sax. I found decades later that the real name of Coco was Philip James, but in the 60s he was Coco to us. He no longer plays in any band, however he did join us for the reunion.
When Andy left, I believe Dave Martin took over on bass guitar, although some of the others didn't think he had, all saying he just played sax. When I met his wife Rita, at the reunion, she confirmed that Dave could play bass guitar and she thought he had done so with us. Sadly Dave had passed away some years earlier.
I am told that Chris Armstrong also played sax with us, but I'm afraid I cannot remember whether he did or not.
When some of the group was talking about turning professional and going to London, I thought it was time for me to leave, as I was due to get married later that year. It was decided that 2 new members would be brought in to replace both Andy and myself. Mickey Evans was brought in to take over my role of lead guitar and Rob Evans, who was no relation, was brought in to play bass. I faintly remember playing one gig with them both as a sort of handover, but I cannot confirm whether this is correct.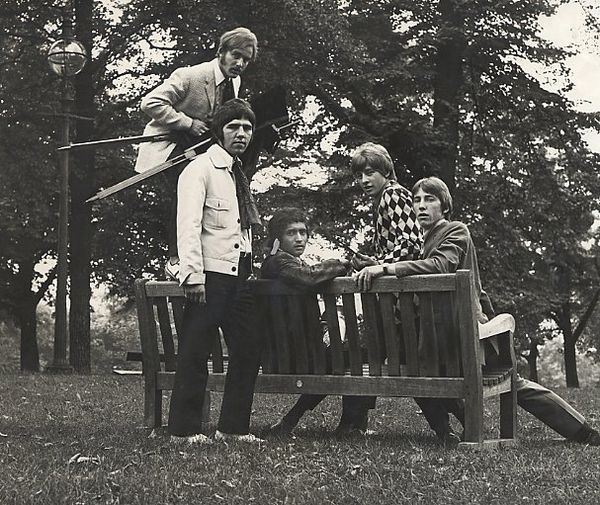 The Band who went to Germany
In August 1967, Adrian and Dave Kubinec wanted to turn professional and go to London. Adrian had asked his mother if Ted could join them, but she left the decision to Ted, who thought he wasn't old enough at the time. The rest of the group didn't want to do this, so Adrian got in touch with Phil to see if he would join them, and the 3 of them set off for London, where they met up with Vic Johnson and Bruno Sampson.
Vic was playing lead guitar, at the 100 Club, in Oxford St for a band called Winston G and The Wicked. At the end of their gig, Phil went up to Vic and said that they had been looking for him and would he fancy going to Germany. Vic said yes, and mentioned that Bruno, who was a friend of his group, could play bass. So after several auditions, Adrian, Dave, Phil and the 2 new members, Bruno and Vic, went off to play the nightclubs of Hamburg.
After 2-3 months of hectic playing at clubs such as the Top Ten, the Star and the Crazy Horse, the group had a falling out with Dave Kubinec. So when they came back to the UK in January 1968, they found another keyboard player. Phil Edwards believes his name was David Peace; however, all they can remember is that they bought him a keyboard so they could do some gigs in France. When they returned to the UK, around May 1968, both the player and the keyboard disappeared.
The group then fell apart and Adrian returned to South Wales, where he joined up with Mickey and Rob Evans and brought in a drummer called Cliff Burge. This version of the Pieces continued for almost a year, playing gigs throughout South Wales, until Adrian had the itch to go back to Germany. Dave Kubinec also rejoined for a while, mainly so they could take part in the European Beat group contest in Lugano, Switzerland. They came third and according to Dave, it was because the promoters were Italian so the Italian band won; it was in Switzerland so the Swiss band came second and the Pieces were the best so they came third. Reading what he said, reminded me so much of the talent contests in Porthcawl and Caerleon, where despite being the 'best', we came second.      
This version of the group also played the Star club as the World of Oz, the group that Dave had joined after he had left in December 1967. At some time, Mickey Evans was apparently homesick so Glyn Whitcombe was brought in to replace him on lead guitar. I didn't meet Glyn until he joined us on the reunion in April 2013, where he played sax, not guitar.
There were 2 other non-playing members of the group, who contributed a lot, particularly in the early years. John Beardmore, a work colleague at Whiteheads, was our manager from up until the end of 1965. As well as keeping a gig diary for those years, he also took many photographs and kept many gig posters.
Glyn Williams, the younger brother of Adrian, was our roadie and van driver up until the group went to Germany. Like John Beardmore, Glyn took many photographs and has many memories of our time gigging.
Looking back on my time with the Pieces, I am still amazed that we didn't record anything or that we didn't turn professional when we were young and in our prime. From the time we formed to the mid-60s we were extremely popular in all of the localities we played.
There was interest from both agencies and managers, but again and again, we told them no, we weren't interested. I think that as well as enjoying ourselves; we thought many of the agencies were crooks out trying to fleece you, so we were probably too wary. When you see what happened to bands like the Small Faces, perhaps our worries were justified, however, we should have done something. By the time we started talking about turning professional, two of us had met girls and were going to get married and subsequently left.
Even when the band when to Germany in 67/68, whilst they became one of the most popular bands doing the club circuits they never bothered to record, despite offers. It was only when they split up that individuals from the band started recording.     
Sometime in the summer of 1969, the Pieces of Mind eventually broke up for the last time or at least until April 2013.