When I got back home  I wanted to take a complete break from playing guitar in groups  and I also needed a job, so I could support my family. I was approaching the age of 25 and the only qualifications I had were 4 GCE 'O' Levels. I also had a foot in plaster that did somewhat limit my employment choices.

I was reading the employment pages of the South Wales Argus one night in January 1971 and noticed an advert for Statisticians to join the Royal Air Force (RAF). I knew next to nothing of what people in the RAF did; I knew people flew airplanes and that was about it. The real thing that attracted me, at the time, was the thought that the discipline of a military life would take me away from playing in groups, a thing that would almost certainly wreck my marriage.       

The advert gave the telephone number of the local Recruiting Office, which was in Clarence Place in Newport. I rang them and arranged an interview the next day. I was interviewed by a sergeant and an officer and had to undertake several intelligence tests. They told me I was suitable to join as a Statistician or Statistics Clerk as they called it and arranged for me to undertake Recruit training starting on the 29th March 1971, just over a week after my 25th birthday. 

I had just over 2 months to wait before I was due to join the RAF, so decided I would go down to the Labour Exchange, or Jobcentre as they call it these days, and see if they had any temporary jobs and if not, I would sign on the dole. My foot was still in plaster but it was getting easier to walk and would not prevent me from doing work that wasn't too manual. When I got to the front of the queue on my first 'signing on' day, the clerk insisted on me going to interviews for full time permanent jobs. I told him that I was waiting to go in the RAF but he said if I didn't go to the interview I would not get any dole money.

The employers at the couple of interviews I did go to all said they would not employ me because I was going into the RAF and in fact, thought I was wasting their time. The next signing on day, I got the same clerk who again told me I had to undertake more job interviews, despite me telling him the results of the previous interviews. I noticed that the people in front of me in the queue were not given any interviews, so I asked him why they didn't get any and he told me that they were 'regulars'. I had to go to several more wasted interviews before the clerk accepted me as a regular.

That 2-month period is the only time in my life I have been unemployed and needed to claim benefits. I understand that people working behind the counters have a difficult time, however, the bureaucratic attitude adopted by that clerk and others caused me immense misery at a time I was just trying to get used to life without playing in a group.     

I arrived at the RAF School of Recruit Training Swinderby on Monday the 29th March 1971 to commence 6 weeks of recruit training. RAF Swinderby was an old RAF Bomber Command airfield that was built in the 1930s and it became responsible for the basic training of all enlisted RAF personnel prior to their trade training, in 1964. It lay just off the A46 and was near the village of Swinderby, roughly halfway between Lincoln and Newark-on-Trent in Lincolnshire.

I had travelled, by train, from Newport to Newark where recruits would be picked up by RAF coach. Arriving at Newark, I noticed a military coach with a chap in uniform standing near the door. I walked up to the coach and he told me to stow my case in the luggage compartment and get on the coach, which was half full of other recruits. We waited for one more train to arrive before we set off to travel to Swinderby. Looking around at the others on the coach, I could see I was definitely one of the oldest, if not the oldest recruit on the coach. I was 25 and about to undergo 6 weeks of tough training with people a lot younger and fitter than I was.

Looking back at training that took place over 42 years ago, I have very few memories of the 6 weeks. The ones that do come to mind are talking to a few youngsters who had joined straight from school, and were extremely home-sick and crying at nights; myself being physically sick and nearly passing out after a heavy physical training session and the thing I will never forget, being called a 'speckled lump of afterbirth' by a drill instructor. The drill instructor wasn't particularly picking on me; it was just my turn to be tested to see if I would break.

After recruit training, I had a few days leave before starting Trade Training at RAF Hereford. All recruits back then had to travel in uniform, so feeling very self-conscious, I set off by train to Newport, where my father-in-law would pick me up to take me to Rogerstone to see Jackie and son.
 
Home on leave, thinner and fitter
During this leave, or it could have been after the Trade Training, I took the opportunity to see Judas Jump, in Newport. Judas Jump was formed out of members of Amen Corner, the Herd, and the Mindbenders together with Adrian Williams from the Pieces of Mind. Adrian maintains his last gig, with Judas Jump, was at the Isle of Wight festival in August 1970, however, I am positive I saw them play at either the Kensington Court club or Mount St Albans in Newport in April or May 1971. I remember chatting to Adrian, Alan Jones and Henry Spinetti in their break. Unfortunately no one seems to have kept records, so either I was dreaming or Adrian is wrong.  
The Trade Training for Clerk Statistics only lasted 5 weeks, so it was not long before I received my first posting to the Headquarters Training Command at RAF Brampton, where I joined around a dozen other Statistics Clerks of various ranks analysing training data in Command Stats. Within a short period, I was allocated a married quarter at RAF Upwood, which was about 12 miles away. My family joined me sometime in June 1971 and we spent nearly 20 months meeting and making new friends, before I received my next posting.      
Our second child, Emma Jane was born in January 1972. This time, the birth was planned to take place in the RAF Hospital at Ely in Cambridgeshire, which was nearly 25 miles away from where we lived, across the Fens. As the due date for the birth got close, Jackie's mother came to stay with us, so she could help and also drive us to Ely, when the time came. Even though I had been driving for a few years, I had never actually taken a driving test and only had a provisional licence. Jackie had a full licence, so we owned a car, which was a magnificent Ice Blue Vauxhall Viva.
On Saturday the 22nd January, Jackie had been fairly quiet all day and then around 10:30 in the evening, she mentioned to her mother and me that she thought she was about to have the baby. We had already packed a bag ready for her and decided it would be quicker taking her to the hospital rather than wait for an ambulance to come all the way from Ely. So the three of us got into the car and I drove us through the dark roads to Ely.     
We got to the hospital just before midnight and were met at the ward by a very stern faced Princess Mary's Royal Air Force sister, who told me to go back home and telephone the hospital in the morning. So I drove Jackie's mother, who had a full licence, back to Upwood.     
When I called in the morning, I found out that Jackie had given birth to Emma at around a quarter to one in the morning, just 45 minutes after we had dropped her off. She only had enough time to have a quick bath before the birth began. I was a bit annoyed that the hospital didn't allow me to stay, however, it being an RAF hospital I decided it was probably best if I didn't complain.     
In September 1972, when Emma was nearly 8 months old, I had some leave owing, so went back home to South Wales. I noticed an advert for a baby show in the South Wales Argus, which was the local paper. The show was being held on Saturday the 9
th
September in the grounds of the Church of Latter Day Saints at Croesyceiliog, so we decided to go and enter Emma.
More than 120 babies entered the contest and to win the championship, a baby had to first win their respective age group. Emma won her age group of 6-12 months and was put forward to the championship judging along with 2 other age group winners. The 6 judges were equally divided about the winner so they asked Jim Pope, who opened the show and fete to decide who would be the champion. He cast his vote for Emma.        
Jackie should have really gone up for the presentation and photograph, but when her name was called out for the prize giving, I was so surprised that I took Emma out of her pushchair and went up to receive a cup and £25.       
I think it somewhat annoyed the locals that someone visiting, and not one of their babies, won the show. Most people didn't know I was in fact from Newport and was home on leave from the RAF.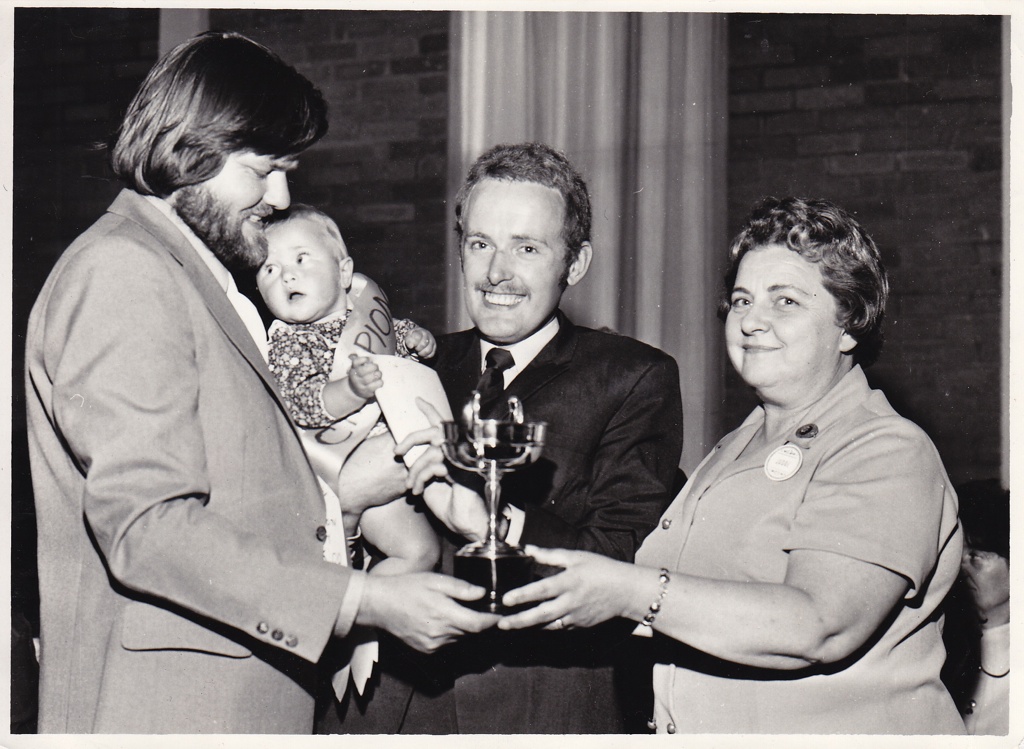 Champion of the Baby Show
Left to Right: Jim Pope, Emma Jane Reardon, John 'Ducksy' Reardon and I think Mrs. Betty Evans.
Jim Pope was an HTV presenter who was there to open the baby show and fete and Mrs. Evans was one of the judges.